Singing Waiters for the Holidays
Holiday Party Entertainment The Way You Want It
Christmas parties are all about gifts, surprises and fun, so it's only natural to have singing waiters for the Holidays.   The Amazing Waiters were recently in Indianapolis, Indiana for a first…a ladies Tea Party/luncheon with a most gracious hostess and a chef that knocked this ladies party out of the park.
Our First Tea Party
And hopefully it won't be the last. Stemming from "old school" tea from across the pond, this Americanized version was complete with American Singing Waiters surprising the ladies with a surprise of holiday warmth through song and a few laughs.
Surprises are a two-way street
This was a prime example of our waiters being surprised.  Being the servers of surprise, we often don't know who many of our guests are or at who's residence we are performing at.  This was such the case.  Upon arrival we were updated as to where we were…this particular event was at the lovely estate of Cindy Simon Skjodt.  Mrs. Skjodt's father was the creator of the modern mall (think "The Mall of America" and you'll be on track), Melvin Simon.  A most lovely home and a perfect setting for a holiday party, our surprise was most pleasant.
Holiday warmth through entertainment and song
As most of our singing waiters shows, our reveal or rather our performance begins from the moment the guests arrive with our two waiters attending to the guests along with the actual catering staff that was on-site.  Serving a few drinks, talking with the guests as a waiter would, the two waiters then segued into their show with some fun deception and planned snafus which added to the realism of the performance, all the while keeping the guests guessing as to what was happening was actually "real".  The first waiter revealed he could sing with "The Most Wonderful Time of the Year", an Andy Williams holiday classic which got the attention of the ladies and garnered a most hearty response from them.  The surprise show continued with some fun banter between the two waiters culminating with the duo singing above the guests on the balcony as they were enjoying their tea, singing "My Favorite Things", from the musical, "Sound of Music".  Afterwards, of course, we informed the ladies that we were not waiters but entertainers posing as waiters-a gift from the lovely host to her guests.  Happy Holidays!  And, thank you for having us!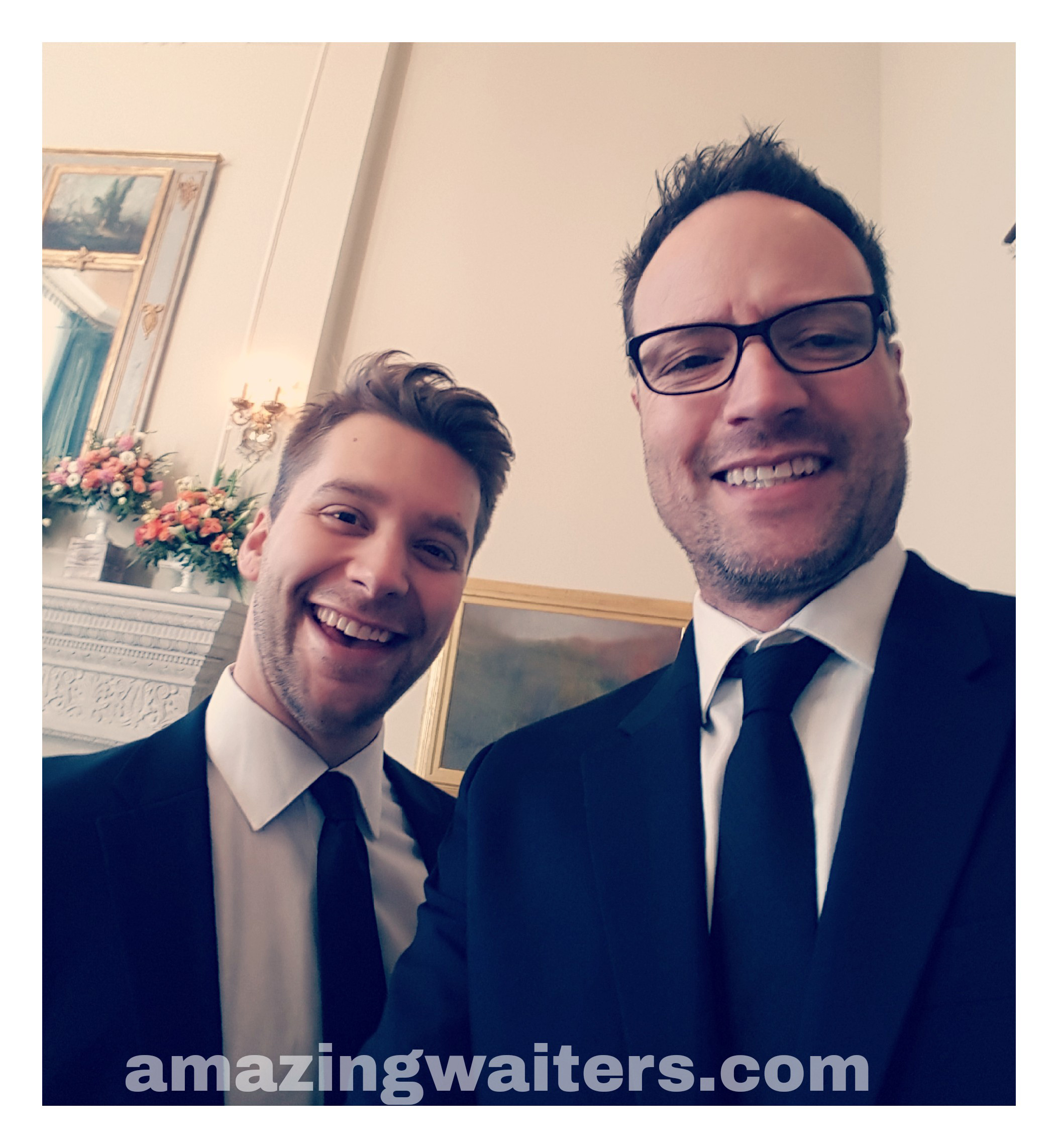 Small Party Entertainment Stays Intimate
Many of our smaller parties don't require large or intrusive production (sound equipment, etc.).  Many times, we are able to bring our own "in-house" sound enhancement which is PERFECT for parties or get-togethers of under 50 guests.  We are always happy to discuss these options for any regional event that may have space requirements if at a private residence, restaurant, or even a small banquet room.  Every amazing waiters show is scale-able and adjustable in regards to timing, length, content and even musical vibe.  Every show is customized.
Singing Waiters in Indianapolis
We've been making more and more appearances in the Indianapolis area this past year and enjoy each and every visit.  We look forward to making the trip again very soon.
For more information on The Amazing Waiters specialty surprise entertainment, please call, 855-899-7701 or visit our website, amazingwaiters.com
#holidaysingingwaiters
#holidayentertainmentideas
#TAW
#theamazingsingingwaiters